ROFA congratulates the SV DJK Kolbermoor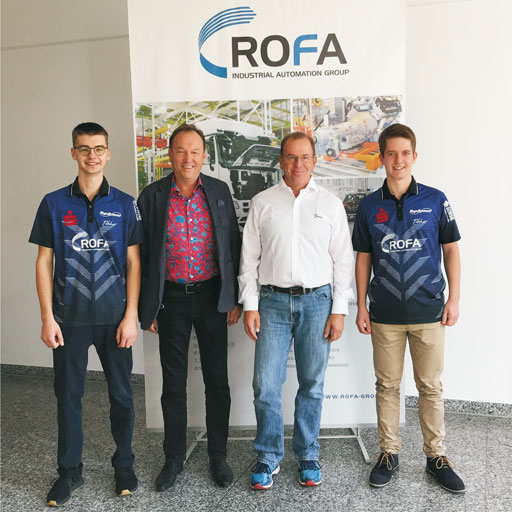 From left: Florian Wiesner, Günther Lodes,
Wolfgang Kozsar (CEO ROFA) and Christoph Kecht
For many years ROFA INUSTRIAL AUTOMATION AG has been the head sponsor of the table tennis department of the SV DJK Kolbermoor. An important concern for us is the support of children and young people in competitive sports. All the more we are pleased, that the excellent youth development work of the club has led to a 2nd Bundesliga team from Kolbermoor whose core players are junior athletes from the club's own ranks.
Since 1986 Commerzbank AG and the German Olympic Sports Association have been supporting the initiative "Das Grüne Band für vorbildliche Talentförderung im Verein" (green ribbon for exemplary talent support). This honor is given to clubs for their consistent commitment to youth development work in competitive sports. The table tennis department of the SV DJK Kolbermoor applied to the award for the first time and was elected straight to second place by the jury.
We do not only congratulate the club for the second place, which distinguishes the exemplary work in junior competitive sports, but also for the highest possible scores in the categories additional cadre support and club influce in prevention as well as social and educational offers.
By commitment, motivation, team spirit and strategy, the SV DJK Kolbermoor manages their youth development work professionally and successfully. With the same fundamental principles, the ROFA Group has placed itself in a leading position in the field of automation and logistics solutions. Solid values, paired with reliability and constancy are what connect ROFA with the SV DJK and shape this partnership.
---