ROFA AG Expands Partnership as Main Sponsor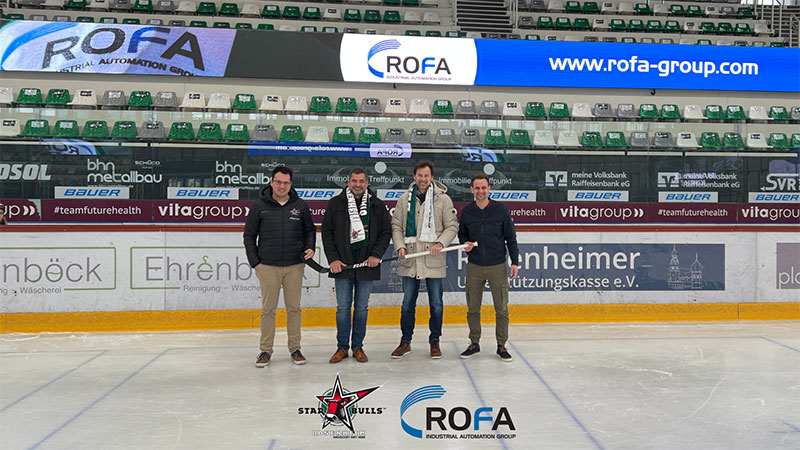 ROFA AG has extended its partnership with the Starbulls Rosenheim for an additional four years. ROFA has been part of the Starbulls family since 2019 and will remain the main sponsor until 2026.
ROFA INDUSTRIAL AUTOMATION AG is present through a large stadium name on the facade of the Rosenheim ice rink, as well as an advertisement on the new LED band and LED wall in the stadium. The logo additionally shines on the ice band in the TV area, as well as on the lower ice advertising and seats in the Bulls Lounge. ROFA is also present as the main jersey sponsor on the jerseys of all youth teams.
"Great success to expand such an important partnership"
"I am very happy that we were not only able to extend our existing partnership with ROFA AG, our main sponsor, for two more years, but also to expand it. Together, we will not only take on the 2022/23 season, but also the competitions up to 2026 and advance joint projects. The partnership with ROFA is characterized by great commitment and trust and is not limited to our first team. ROFA AG is present on the jerseys of all youth teams and fully supports us and the entire ice hockey location in Rosenheim. I am excited that we will continue bringing Rosenheim ice hockey a step forward in the future", said Darwin Kuhn, Sponsoring Manager of the Starbulls Rosenheim.
Stadium name as a lighthouse in the region
"The cooperation between two institutions from the region is about to enter the next round. We are very proud, especially in view of the infrastructural renovations in the stadium, that we continue to present the stadium name for a more modern and multifunctional stadium. The ROFA Stadium, the excellent atmosphere, and the strong work in the youth are a lighthouse in the region, as well as in all of ice hockey Germany. With the new LED band and the lower ice advertising, we were able to expand our partnership with two new media and thus become even more visible in the stadium. It is important to us that we are not only present in the stadium, but also in youth work and as the main jersey sponsor of all youth teams, we want to contribute to the success. We are entering a joint future with the Starbulls Rosenheim e.V. with great enthusiasm and looking forward to many joint projects", said Andreas Bauer, CEO of ROFA AG.
---